Written by Capt Jerry P Fish Monger Charters
Saturday, 29 November 2008 20:00
{jcomments off}Tog Fishing : Tips Tricks and Techniques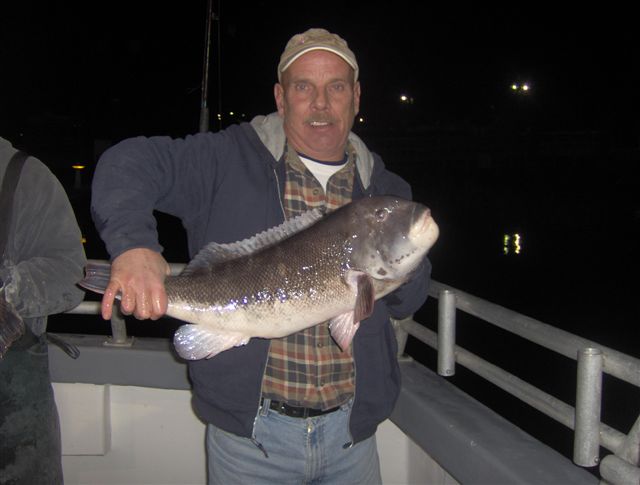 From what I can see both from deck Capt. and as avid tog fisherman, way too many people fish too light. If you think you could hold bottom with an 6 or 8oz. use 10 or 12oz. Use 40-80 lb main line and 60-100lb leader. Black fish are not line shy, so have the extra bit to land the big fish. Too many times I see people catch plenty of tog and always lose the hog on there 30 lb test. Your 30 lb test becomes a lot weaker once it frays or get's a nick in it.

Very very important, don't move your sinker, hence the heavier weighted sinker. On most days the bergall will be the first to inspect the bait then Mr. black fish will approach. if you swing at the bergall you will, on most occasions scare the black fish away to another angler who has his crab and sinker sitting flat on the bottom. I see way to many people bouncing there sinkers all over the place while everyone next to them is catching fish.
once you find the bottom leave your sinker there...........


Crab selection makes a big difference. Don't be afraid to try different things. Last week you could have caught your limit on hard orange belly green crabs but this week the water dropped 2 degrees and they only want the soft green light belly ones. Some days its legs on others legs off. whole crabs or 1/2 it all changes. It all makes a difference so change it up.
Nothing fancy needed when togging. keep it simple. No 3 ways weight clips swivels etc.
Double hook rigs are good at times usually when fishing a whole crab with both hooks in them is the best application, hence a snafu or slider hook rig. High lows I personally stay away from. When you hook a big blackfish the object is to get him out of the bottom so no matter how smooth your 450$ reels drag is , if it's too loose you will watch him take you right back to the bottom. Tight drags and heavy line lands the hogs more times than not. Pick a rod that is good for you. A fancy rod spiral wraps and side winders are for the guys who have been doing this a long time. none of these will help you learn when is the right time to swing at a tog bite except practice. Ask questions, most people will be more than happy to help you out and leave the spinner home!!!

Don't be afraid to move around on a boat if the crowd allows it. Most of the time black fishing crowds can be light especially later in the season. No matter how good you are if you don't have good bottom you cant catch blackfish. Its not rude among the guys who blackfish regularly. Just be polite. The more time you are on productive bottom the more you will catch. Many people will bark why cant the Capt. put the whole boat on the bottom . The answer is simple he could but big well know high profile wrecks get beat up and cleaned out quickly. Many small less know snags often produce a lot of big fish ,but it might only be on one side or section of the boat.


Braid could be a big advantage for blackfish but is could be a huge disadvantage if used wrong. all the tog sharpies I seen almost fish with a bow in there line and for good reason. If you fish with a super tight line with braid your sinker will roll around and bounce every time the boat moves hence scaring more tog away from your swinging crab than it will attract. So yes braid will help you feel the sneaky bites better then mono but if you are getting less bites because you are using it wrong it defeats the purpose.

Try a 6 pack boat before jumping on a head boat. its more forgiving. It will give the practice you need to make the most of the fewer bites you get on a tough day on a party boat.
More bites more misses and more practice. land based tog is also a good practice. such as a canal or inlet.

Use sharp hooks. Gamu owner and the other chemically sharpened hook will increase you hook up. Check your hook points often as well you wont catch to much if you point is messed up the whole day.

Gloves lol this is a funny one. be in touch with your rod. if you put on the Antarctica glacier gloves chances are your hands are warm but you don't catch that many tog. dress warm but be comfortable so you can be productive at the rail.

Fish a lot, tog fishing takes lots of practice. The more you go the better you will get. Watch and learn from the people who are doing well. Find a boat that could be a home for you so you can feel comfortable and have friend to fish with. never stop learning there is no way to master togging but being able to adapt will help put fish in your cooler.

Hopefully some newbie tog hunters can get some good info out of this.
 
Capt. Jerry P
www.fishmongercharters.com