Written by Bob Maehrlein
Friday, 10 May 2013 18:43
{jcomments off}Great Time Great People - NJ Saltwater Fisherman 6th Annual Banquet


"A great time with great people," was how NJ Saltwater Fisherman founder, Rod Houck, described the 6th Annual NJSWF banquet, which was held on April 20th.  Once again, the Captain's Inn in Forked River, NJ played host to the over 150 NJ Saltwater Fisherman members and their guests.  And, once again, the attendees were treated to a fabulous night of great food, great drink, great friends, and great giveaways!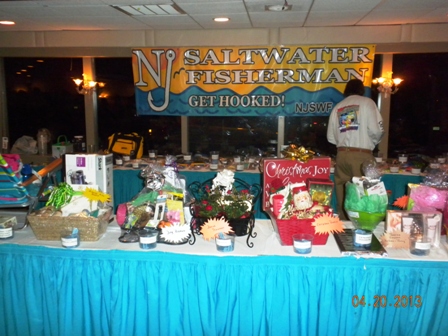 The prize tables were loaded with goodies donated by our generous members, charter and party boat captains, retail stores, and tackle makers.  From fishing reels and rods and lures, to fishing trips, to Vera Bradley pocketbooks and Yankee Candle baskets for the ladies, the tables were stuffed.  In fact, there were so many prizes; it took nearly two full hours to give them all away!  But, while the guests enjoyed the spectacular spread of food, Captain Joe Gogan, my daughter Katie, and yours truly did just that.  Names were called until the last prize was finally given away at 10:26pm.

The night culminated in the drawing of the grand prizes to benefit the Recreational Fishing Alliance (RFA).  The Grand Prize, which included a custom made rod, a new reel, custom plugs, tackle box, net, and assorted other tackle was won by Wayne Hopkins.  The runner up prize, which had only slightly less goodies, was collected by Vinnie Gough.  Captain Adam Nowalsky, Chairman of the New Jersey State Chapter of the RFA, was on hand to graciously accept a donation of over $2000.  He later wrote, "As always, a huge THANK YOU to the NJSWF administrators and members.  Great turnout, great food, and a MEGA donation to RFA-NJ.  We continue to work for you the anglers.  THANK YOU AGAIN!"

Member Paul (paul-e) Schumacher summed it all up by remarking, "A great time and event for all.  I had a great time!  Thanks to Rod and Mrs. Rod for all their hard work on making this such a success.  Thanks to all the sponsors and members for the great prizes."

As we look forward to this fishing season and next year's banquet, please remember to support those who support us.